1. Perfect light for your kitchen: basic, secondary and accent lighting
Just like in any other room, the right basic lighting comes first. Basic lighting features a uniform light distribution (diffuse light) across the room and can easily be created with a variety of kitchen luminaires: LED panels and recessed spotlights are always a good choice for good and uniform illumination. LED rail systems like URail or NanoRail – provided the right spots or lamps are installed – will also make for great kitchen lighting.

Rule of thumb: Aim for 300 lm per square metre. A 15-square-metre room, for example, will need a brightness of 4,500 lumens spread across various light sources.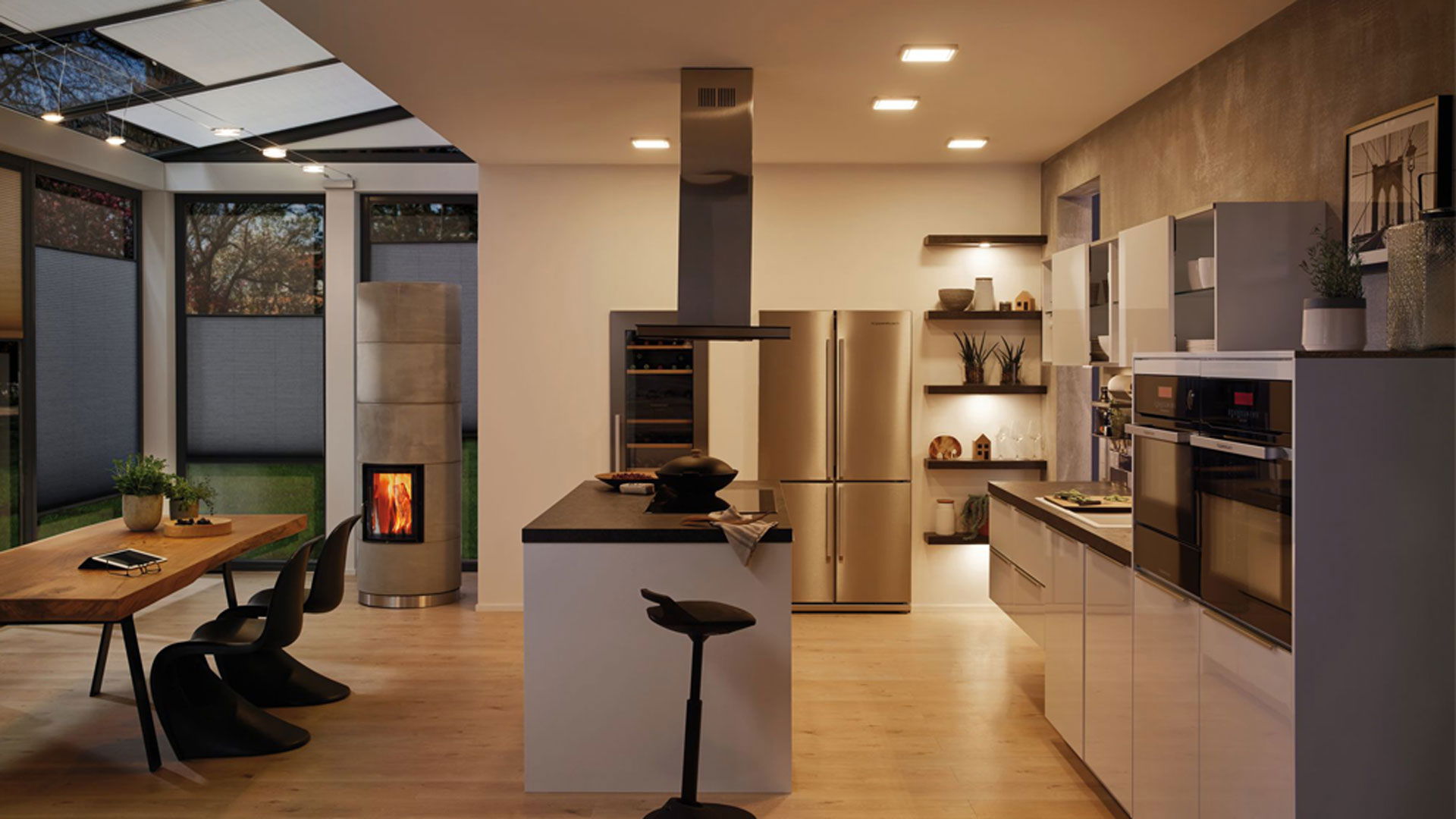 However, basic lighting alone is not enough for a well-rounded light concept in the kitchen. Individual areas like the dining table and worktop or the kitchen counter will need more light. So-called "secondary lighting" will help you to highlight individual elements in the room. Pendant luminaires with opaque lampshades are a great choice for dining tables. They cast a light cone on the table and help create a feeling of community when the family sits down to dinner. Read our blog article on dining table lighting for more details.
Many kitchens are designed with lighting over the worktops, but more often than not, the cooker is left out of the equation. Good lighting is, however, crucial to prevent injuries and accidents. You may want to think about adding LED strips or furniture luminaires to bring light to where it is needed most. And best of all: you don't have to drill holes in the kitchen cabinets. The light strips and also the practical Clever Connect furniture luminaire system are self-adhesive.

2. The right kind of light: direct or indirect?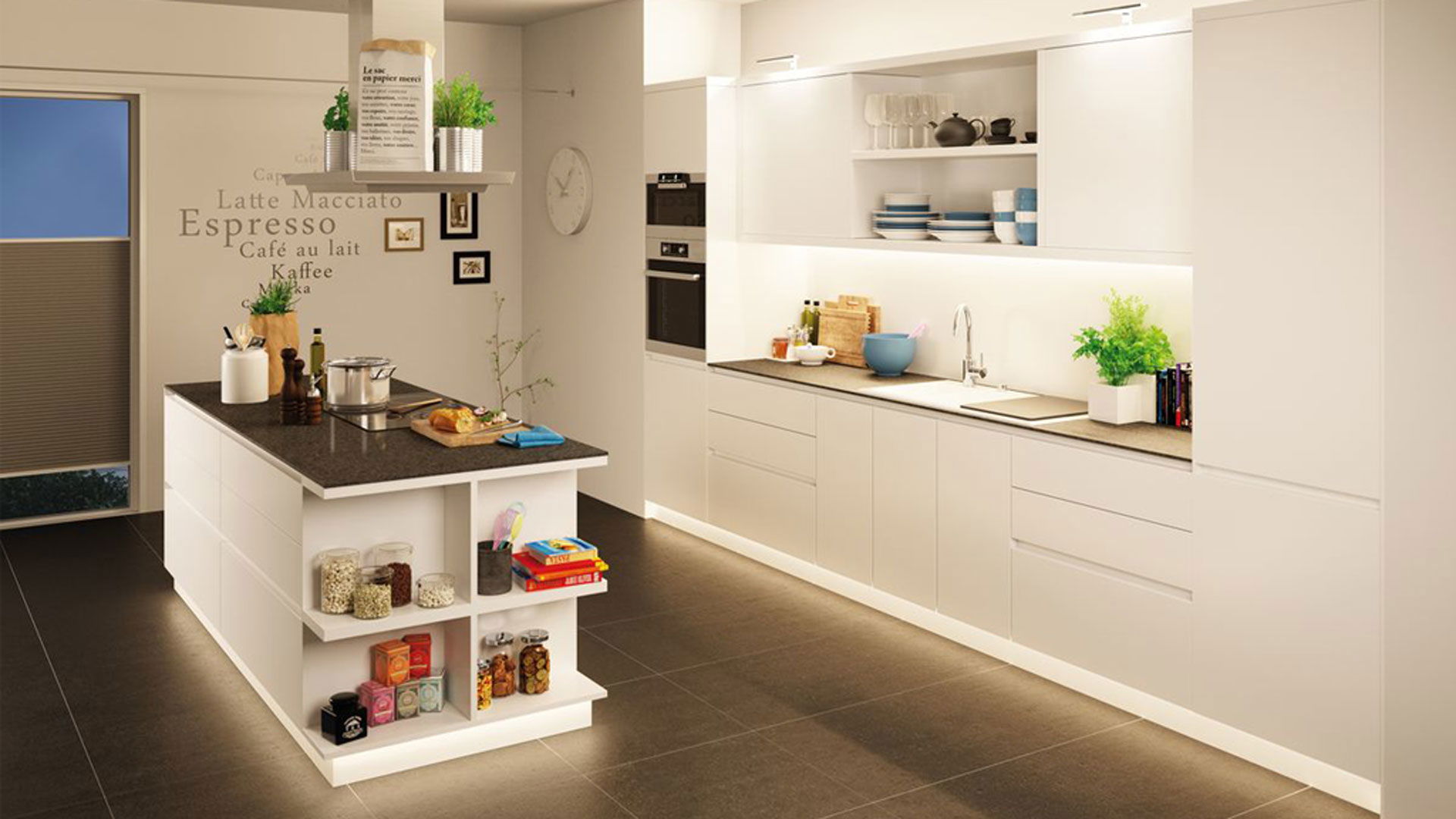 A well thought-out light concept is the basis for a good combination of light and other interior elements. Each room is divided into various zones that all need particular types of illumination. A combination of direct and indirect lighting is best for creating an attractive overall look and feel in the kitchen. You will need properly bright light for cooking and cleaning, for example.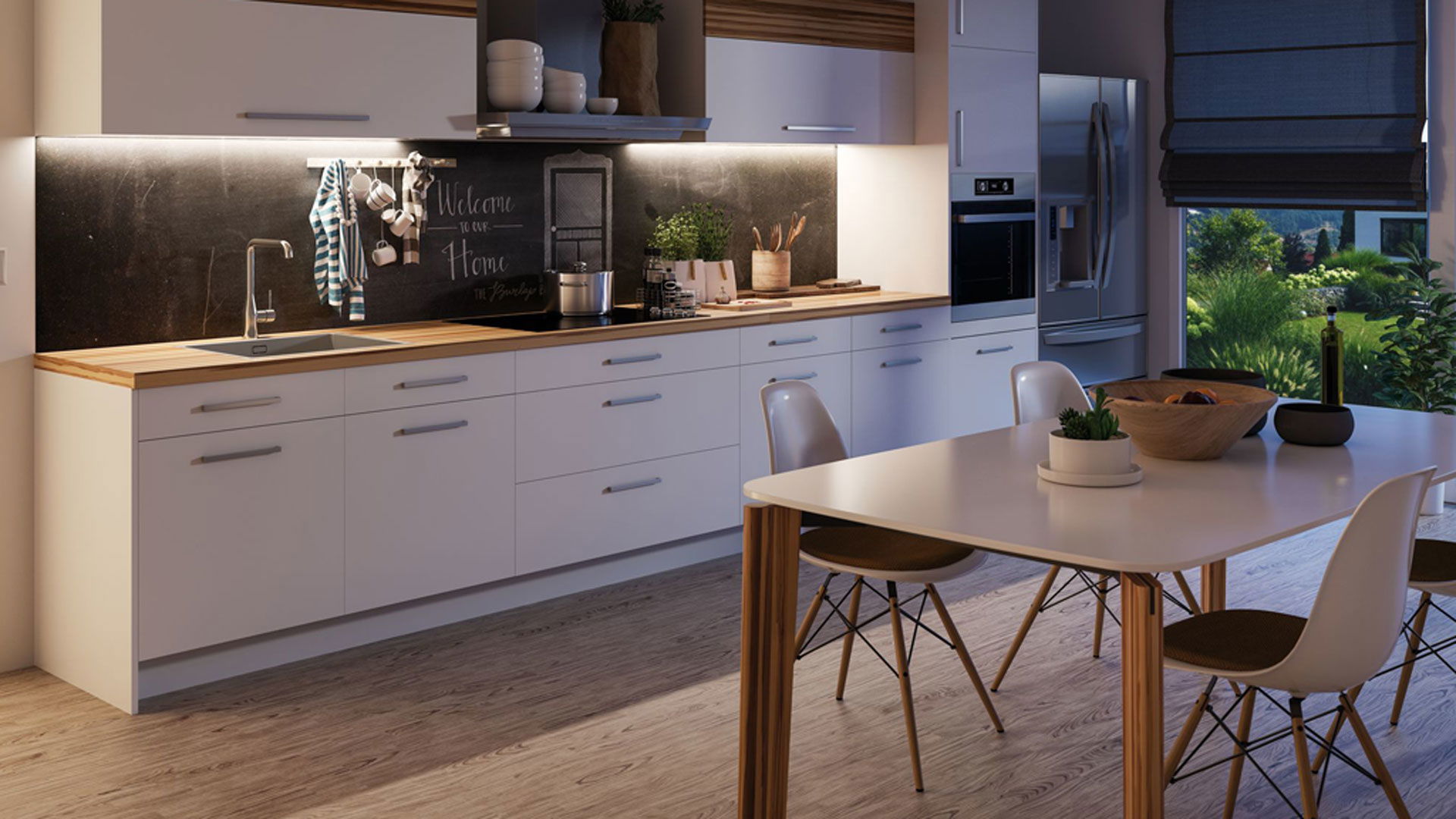 But while functional lighting (direct lighting) is needed over worktops and a kitchen island, indirect lighting is the better choice for shelves, in kitchen cabinets and near the extractor fan. A mix of both is a good idea for the dining area. Important here, however, is the right ambiance. You can use light colours to create a cosy ambiance – and it doesn't matter, whether it comes from direct or indirect light sources.
3. Which light colour works best in the kitchen?
It is time to think about the right light colour for your lamps, once you've go your basic lighting done and you have added secondary lighting and accent lighting. LEDs with a low colour temperature give off a gentle light. You will need a much higher Kelvin value for work lights. Our recommendations for light colours in the kitchen:
Basic lighting: Warm white (2,700 - 3,000 Kelvin)
Secondary lighting for the dining area: Warm white light (2,700–3,000 Kelvin)
Worktop lighting: Neutral white (3,300 - 5,300 Kelvin)
We recommend under-cabinet lighting for the work area or a cool white light colour of 6,500 Kelvin for a pendant luminaire, as this colour temperature helps to boost concentration.
Make sure that the LED kitchen luminaire you choose can't cast shadows on the counter top from above. In addition to a cool light colour, you should aim for more brightness – best would be 500 lumens per square metre. By the way: Self-adhesive lighting will let you adjust your kitchen lighting whenever you like if you need a little extra brightness.

"Our design focus for our products is always on user needs in the home. Design, function, safety and a long lifespan are basic considerations for all our kitchen lighting." – Andreas, Product Manager Paulmann Licht
4. Positioning your light sources in the kitchen
One single LED ceiling luminaire in the kitchen is often not enough for functional and attractive kitchen lighting. You should therefore plan the positions of each kitchen luminaire carefully. Here is one way of doing that:
Kitchen island: Hanging kitchen lamp
Ceiling: Recessed spotlights, spots, LED rail systems
Shelves: Wall luminaires, LED strips or Clever Connect
Kitchen units: Under-cabinet lighting, LED strips (maybe with profiles)

Dining table: Pendant luminaires
Living area: LED ceiling luminaires with dimming function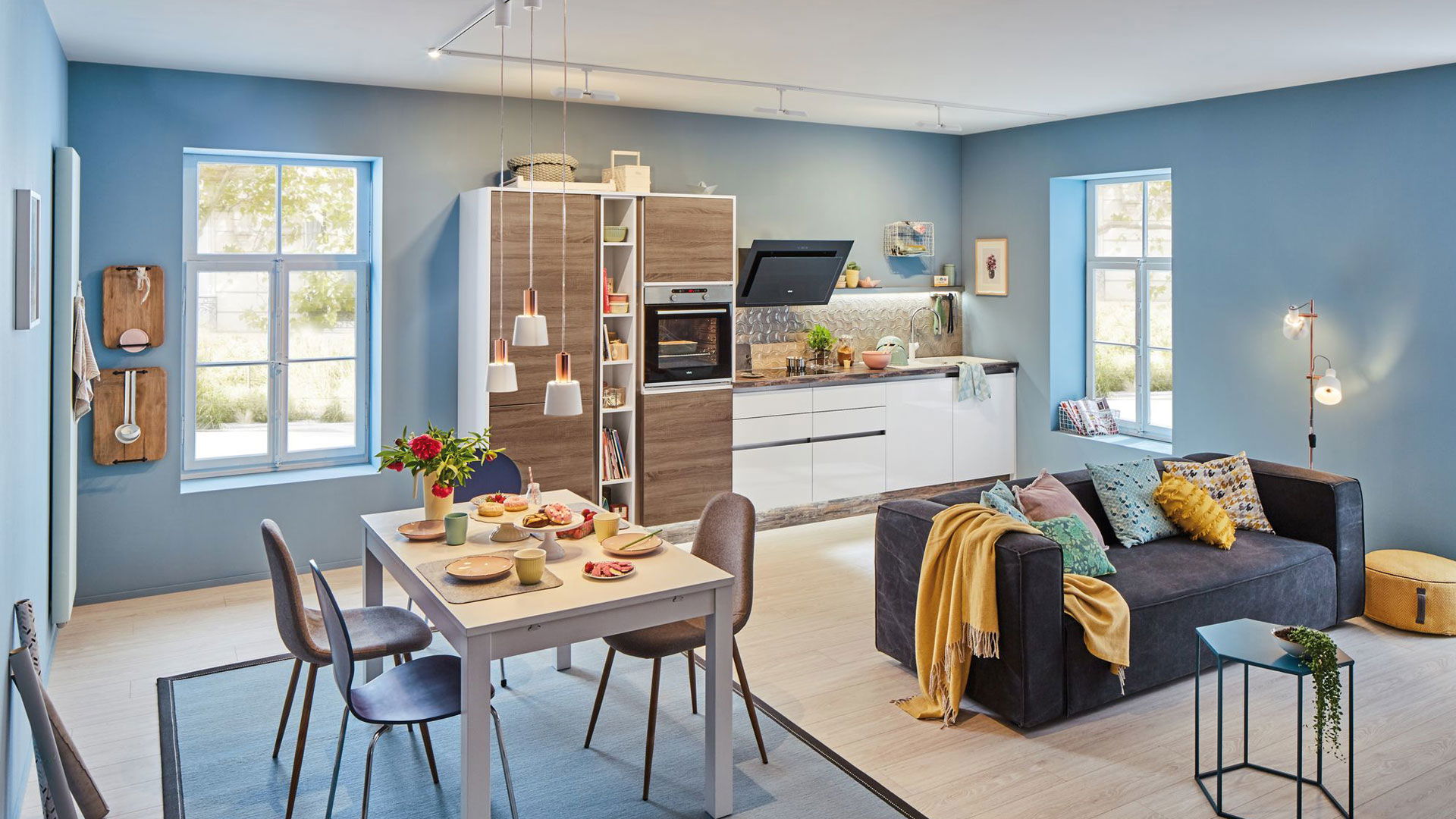 A distance of around 50 cm from the worktop is recommended for kitchen lighting installed under wall-mounted kitchen cabinets. A good alternative for effective kitchen lighting would be an LED rail system like URail or NanoRail to light up the kitchen counter. You can then simply point the spotlights where light is needed.
Recessed luminaires for the ceiling should be spaced out evenly for the best possible light distribution in the room.

Shelves and cabinets can be lit from above, below or within. It will be so much easier to find all your kitchen utensils and you will add attractive light accents at the same time. Add a finishing touch to your kitchen lighting with LED strips in profiles
Aim for a distance of 60 to 70 cm between the tabletop and the luminaire in the living and dining area. Indoor luminaires that allow light setting adjustments will help create a warm and comfortable overall look that has all the functions you may need.
5. Creative ideas for eye-catching light effects in the kitchen
Kitchens are no longer just used for cooking. It has become the heart of the home for all the family and a place to spend time with friends. Attractive and atmospheric kitchen lighting is more in demand than ever.
Maybe our suggestions and ideas for creating that special flair in your kitchen can be helpful if you haven't decided on a final light concept for the kitchen as yet.

"Paulmann Licht develops creative lighting solutions, as well as functional and decorative lamps for the kitchen and your living and dining areas. We are happy to help you realise your own lighting ideas with planning and installation tips for the perfect light in your home." – Melanie, Product Manager

6. Planning your kitchen lighting with Paulmann Licht
Our huge selection of kitchen lamps will give you plenty of options for your kitchen lighting concept. Whatever you choose, it always helps to use a variety of light sources to give the room a unique flair. Your best bet is to plan beforehand, where luminaires will be needed, what light colour you want and if you need to buy additional accessories like a transformer, a power supply unit or connecting cables.

Take as much time as you need to plan your kitchen lighting. We here at Paulmann Licht will be happy to offer help and advice on topics like lamps, installation, dimming, IP protection and more.

Basic, secondary or accent lighting, direct or indirect light – Paulmann offers many options for your kitchen lighting. We definitely have the right solution for your kitchen light concept.