Find out more about the best way to light up your home office:
1. How important is natural light in the home office?
Make sure that the room you choose as your home office has plenty of natural light, before you start thinking about office furniture, decoration or a nice desk luminaire. A dark, windowless rooms is never a good idea for a home office, because natural light plays an important role in the way we work.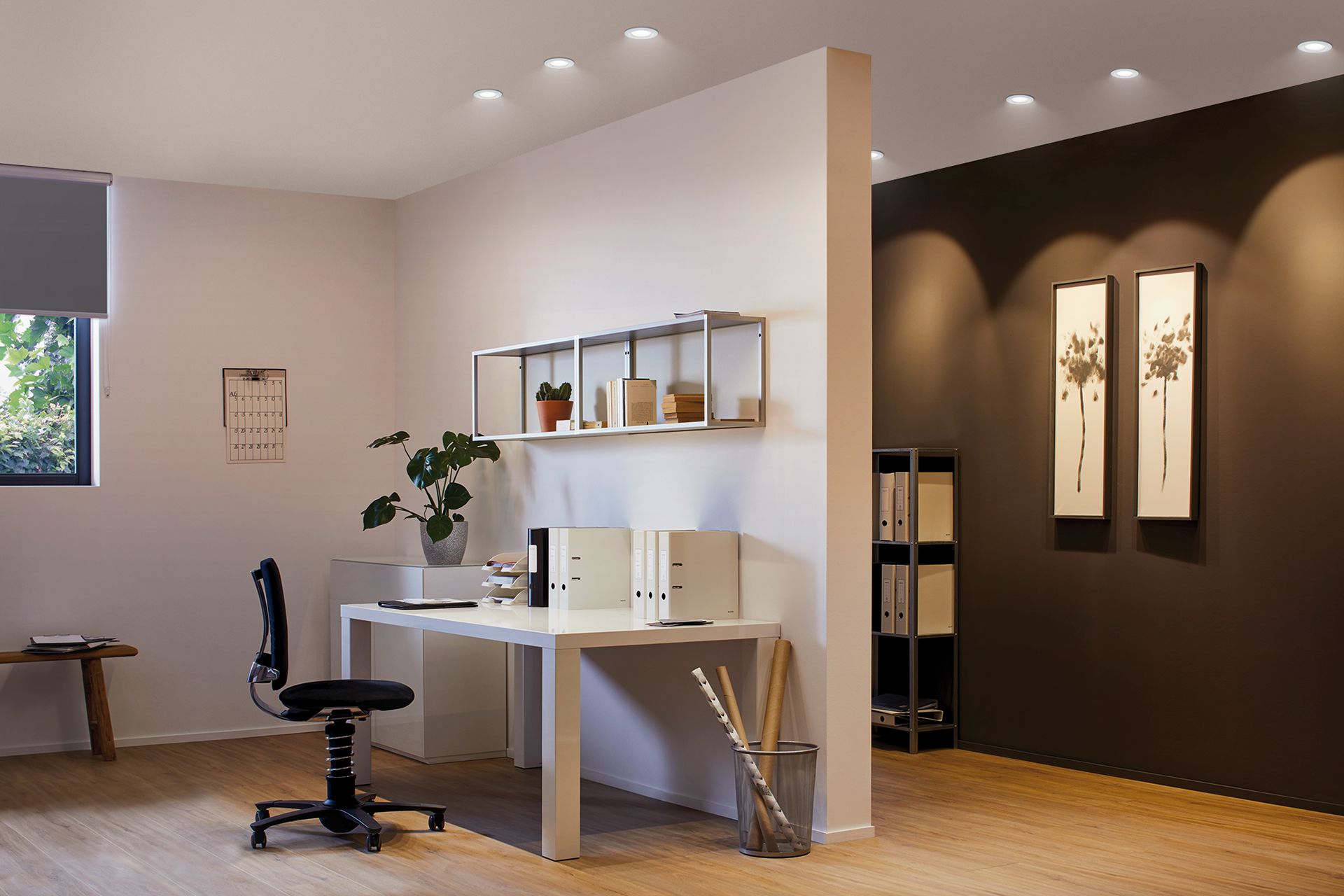 It all has to do with the human biorhythm. We feel more active and awake or exhausted and tired depending on the season and the time of day. Plenty of sunlight will keep you energised and productive, while a dark office will make you sleepy and lethargic. Natural light comes in at around 5,300 Kelvin, which has a stimulating effect and boosts concentration and performance. Sunlight is also essential for our body's production of vitamin D. Der Mineralstoff spielt eine entscheidende Rolle, wenn es um unser Wohlbefinden geht und steht daher in direktem Zusammenhang mit unserer Motivation. This mineral plays a crucial role in our well-being and is directly linked to our motivation. During the darker months of the year, the lack of sunlight makes people depressed and demotivated. Make sure to avoid the "winter blues" with the right kind of light in your home office!
Your desk should positioned perpendicular to the window to prevent glare. Window blinds are definitely a good idea for the summer to protect you against too much direct sunlight and heat.

Sunlight is not the only thing that can annoy you! Make sure that all direct light sources are either shielded or placed to one side of you.
2. Basic lighting for your home office
Natural light is unpredictable and its intensity changes constantly, depending on the time of day, the weather or the season. You will therefore have to make sure that you have good lighting in your home office all year round. Make sure your home office lighting is as uniform as possible. Too much contrast is stressful for the eyes and will make you tired faster. You can choose from a range of luminaires to get the perfect lighting in your home office:

Flat LED luminaires known as LED panels emit diffuse light for uniform light in the room. Their reduced, understated design has other benefits as well: it really doesn't matter what interior style you choose for your home office – the panels basically blend into the background and will always look good.

The same principle applies if you prefer recessed luminaires. They don't offer the same kind of diffuse light, but they are an excellent option for basic lighting – you just have to put up enough of them. The number of recessed luminaires you will need depends on the size of the room. Find our more on our page about Indoor Lighting.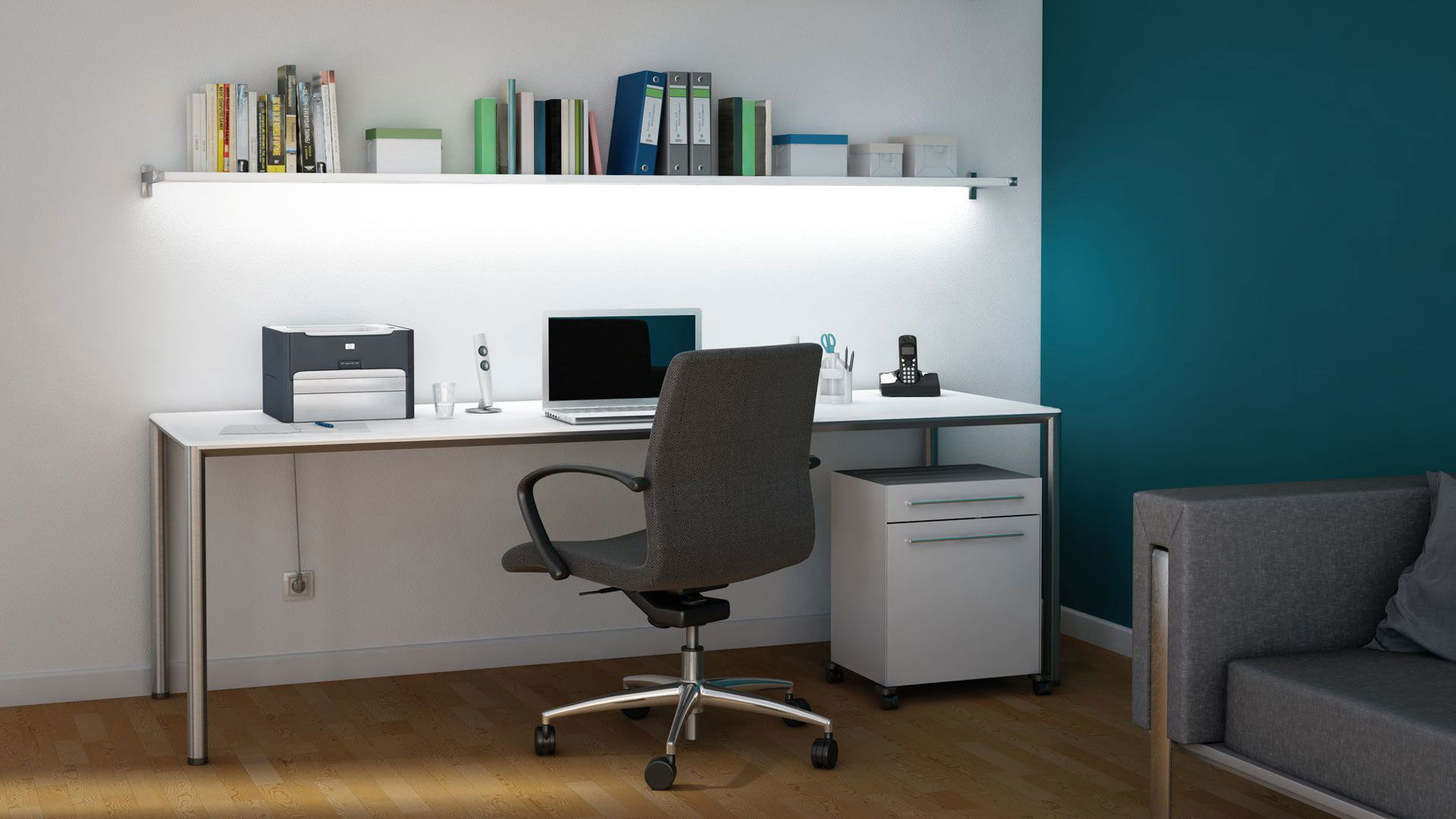 Ceiling luminaires or pendant luminaires with a fabric shade are another option for basic lighting in your home office. Both of these types of luminaire are very decorative.

Or you could go for wall luminaires instead. Nice wall luminaires will definitely brighten up your workplace at home.
LED strips are great for creating indirect lighting in your home office. Light strips like our FlexLED are easily installed without tools and emit a pleasant light. For the a little bit more ambitious among you: Our MaxLED LED strips are designed for installation in a profile. They distribute their light uniformly in the room and are 100% glare-free. You will, however, need some tools for the installation.
The URail rail system might be your perfect choice if you want to install a variety of luminaires in your home office. The rails are mounted on the ceiling and you can attach virtually any luminaires you like. And if you ever get tired of the look of any of these luminaires you can simply replace them with others. Want to learn more about our light rail? Have a look at our URail overview page.
3. Direct light sources: accent lighting and reading lights
Once your workspace has sufficient basic lighting, it's time to select some focused light sources for accent lighting. These could be floor luminaires or individual ceiling spotlights that highlight individual elements of the room. Just like with natural light, make sure that your direct light sources don't cause glare. They should always be positioned at an angle to the desk.
Desk luminaires: an essential direct light source for the home office
The one direct light source you will be using the most is your desk luminaire. With it, you see all that you need to see for your work. It is your reading light and helps you concentrate. This very important work light must adapt to your work needs with flexibility and adjustability.
In many homes, the home office is part of the living room and a traditional desk luminaire could look out of place. There are many beautiful designer desk luminaires that will suit the rest of the interior. Their elegant look will round off your workspace and appear as one with the interior theme of your living room.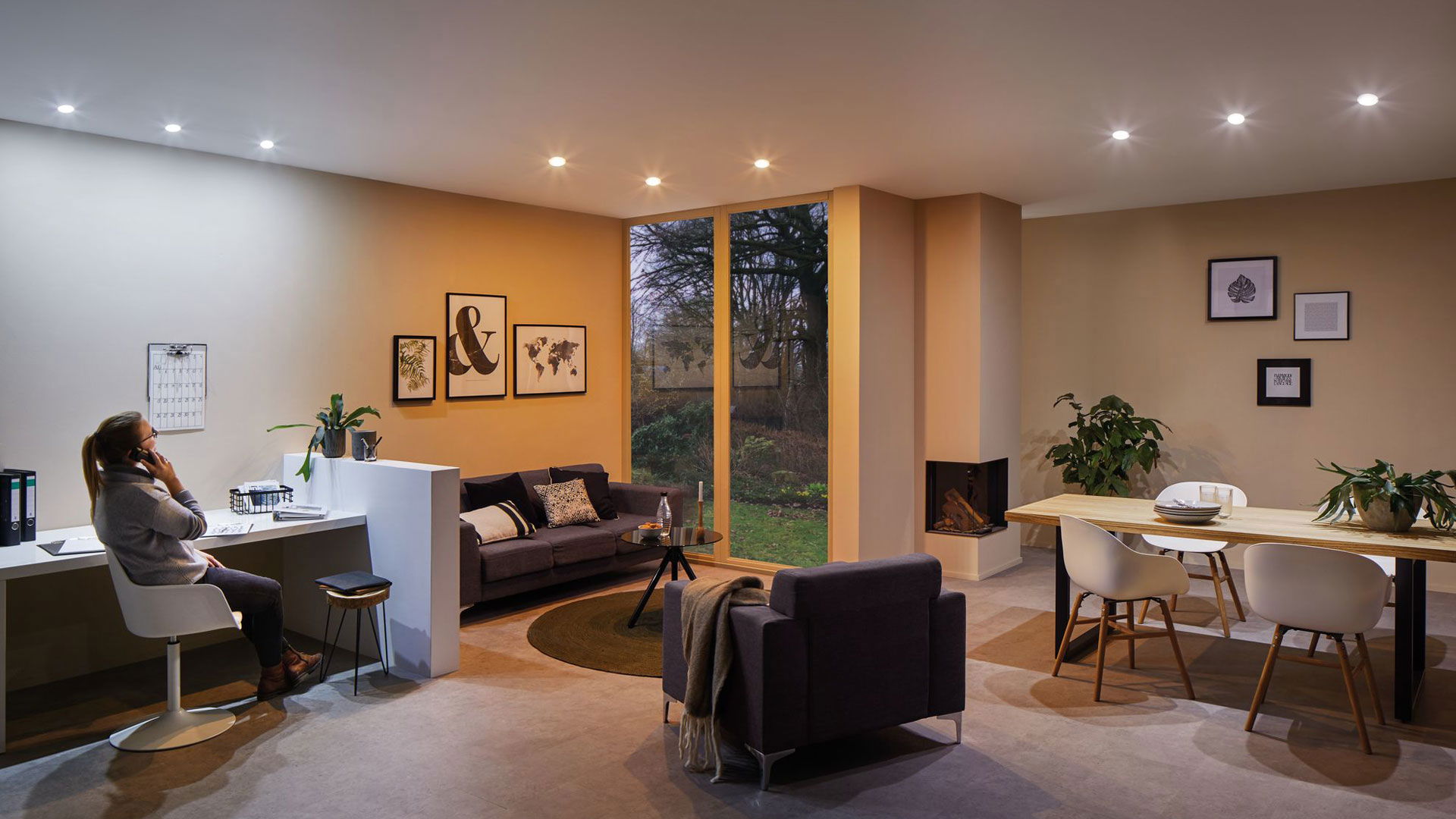 4. Correlations between luminous intensity and work efficiency
The luminous intensity in a room is measured in lux. One lux is equivalent to one lumen per square metre. Your home office will need a specific lux value depending on your age and the type of work you do. For younger people a value of up to 500 lux will suffice, older people should choose a value between 750 and 1,500 lux. Working on a PC doesn't need as much light in your home office than more strenuous tasks like drawing. For these tasks, a luminous intensity of 1,500 lux or more is recommended. Make sure that the luminous intensity in your office matches your age and the type of work you do.
5. The impact of colour temperature on concentration and performance
Colour temperature affects our concentration and performance just as much as luminous intensity. Colour temperatures fall into three categories:
Daylight white: As mentioned earlier, daylight has a light colour of 5,300 Kelvin or more. This colour temperature has an energising effect on the human body and boosts performance.

Neutral white: Many office buildings and also home offices rely on a light temperature between 3,300 and 5,300 Kelvin. This range is perceived as neutral white and is often referred to as "objective lighting".
Warm white: Some people perceive neutral white and daylight white as too cold and the trend here is towards more of a warm white light for the home office. Its colour temperature of 3,300 Kelvin or less has a positive effect on our well-being. Make sure that the light sources you choose for your home office have sufficient luminous intensity if you opt for warm white luminaires.

Read more about light colour on our page about colour temperature.
You'd like to have a choice of light colours to suit your mood? Lamps or LED strips with a tunable white function are the answer.
6. Cutting costs with LED luminaires for your home office
LED lamps are by far the best choice for lighting up your home office. LED technology will save you about one tenth of the energy a traditional incandescent light bulb would use. Such savings are great for the household budget and for the environment. The lifespan of LED lamps is also remarkable: These modern lamps will keep your workplace bright for more than 10,000 hours.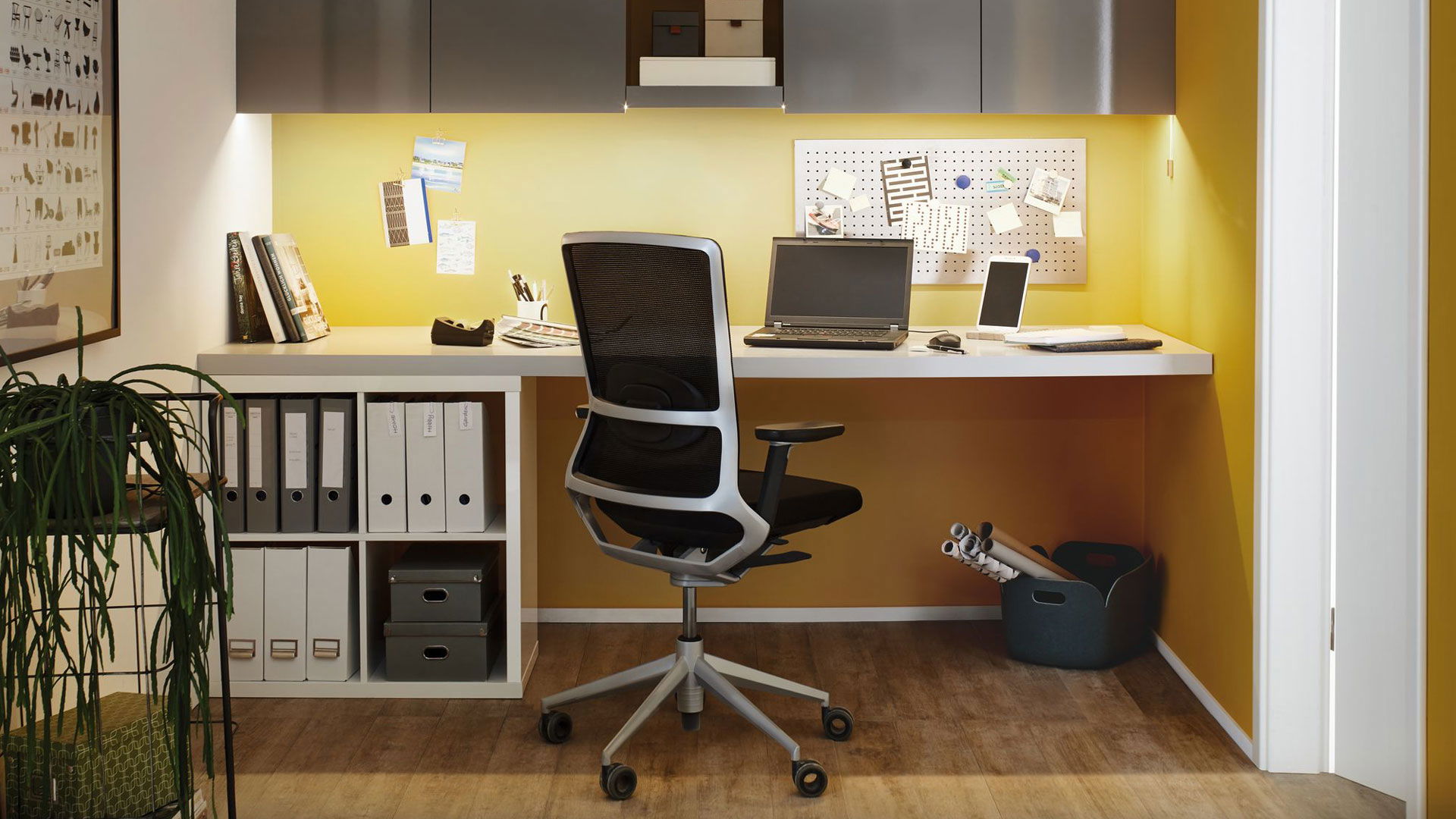 Home Office Lighting Overview
Choose a room with plenty of natural light as your home office. Position the desk at an angle to the window or install window blinds to prevent glare.
Install basic lighting for your home office and add some direct light sources.
Too much contrast causes fatigue.
Choose a light intensity to suit your age and activity. 500 lux will be enough for younger people, an older person should choose an intensity between 750 and 1,500 lux. Delicate manual work will need a lot more brightness than working on a PC screen.
Choose a light colour that boosts your concentration and feels good.
Use LED lamps in your home office to save money and electricity.