Illuminated Pallet Shelf for the Balcony & Patio
Pallet furniture is right on trend. A couch, an armchair, a stylish bar or a wall shelf – euro pallets offer endless possibilities for the creative mind! Our colleague Fabian created a multi-functional eye-catcher from a discarded pallet, some odds and ends from the DIY store and some Paulmann lights.

This wall shelf would look great with some growing pots for herbs for BBQ and cocktail nights outdoors. It offers enough space for all the utensils you need. The mirror tiles create the illusion of depth and enhance the light effects.
Build your own pallet wall shelf – here's what you need:
One Paulmann WaterLED strip (Prod. No. 70699)
2-4 Nova Coin recessed luminaires with IP 67 protection (Prod. No. 93626)

One euro pallet
4 wood shelf boards for the recessed luminaires
One cover board and a piece of roofing felt
4 mirror tiles
2 backing boards (e.g. MDF) for the mirror tiles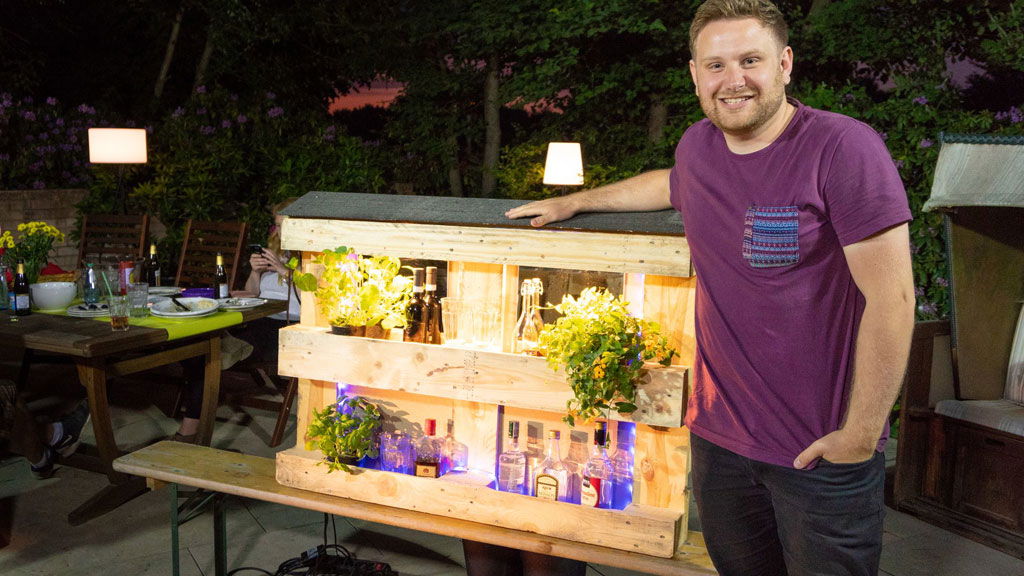 Two additional back walls will be needed as backing for the mirror tiles. Once all components have been put together, you can add the WaterLED strip along the inner edge of the shelf for coloured moving lights. The strip has the same IP67 protection – meaning that nothing will happen if something is spilled on it.
All that's left to do now is to hang it on the wall, fill it and wait for dark. Voilà: a gorgeous, illuminated pallet bar!